UP TO $2,000,000 AVAILABLE funding for liquor store.
Interested in funding for your liquor store?
100% TRANSPARENT FUNDING UP TO $2,000,000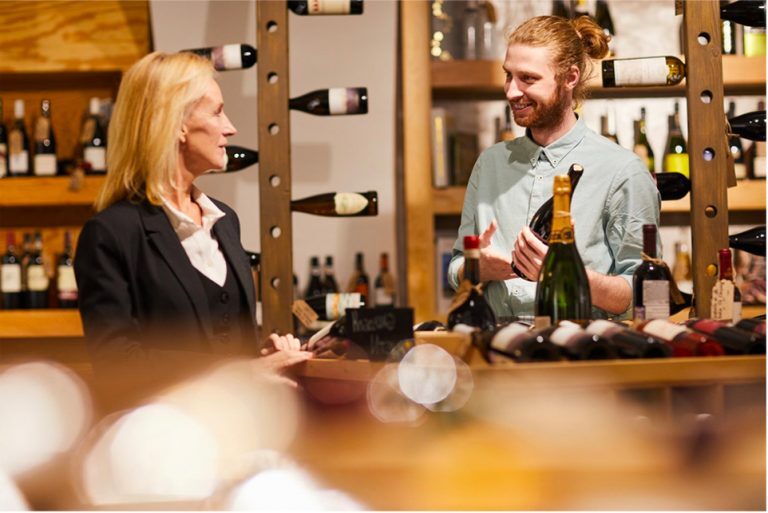 Fundkite has provided funding for liquor store chains and independently owned across the country. Running a liquor store is all about creating a welcoming community for wine, beer, and spirit lovers to share their passion. But practical business strategies like building your brand, marketing new products, establishing an online presence, and training employees are just as critical for your success. The problem is that most store owners don't have the funds on hand to invest in these endeavors and aren't sure how to secure funding for their business.
That's where Fundkite comes in. Fundkite's experienced underwriting team makes our application process incredibly fast, and our boutique funding for liquor stores allows our staff to create an offer tailored to your business's unique needs and growth goals. Most importantly, we believe in 100% transparency. Our experienced staff will walk you through every detail of your funding offer and will answer any questions you may have. So take a look at what Fundkite can offer you and secure funding for your liquor store today.
to make your liquor store stand out
to make your liquor store stand out
Go Beyond Liquor Store Financing
Liquor Store Ideas for Up and Cross-Selling
A great way to increase customer purchases and deliver a better customer experience is cross-product promotions. A simple way of doing this is by offering a discount for buying 3 items of the same brand. For example, if a customer is purchasing a bottle of plain vodka, you might offer a package of regular vodka as well as orange-flavored and lemon-flavored vodka at a discount. This will encourage customers to buy more.
Liquor Store Promotional Ideas Can Increase Customer Return Rates
Besides loyalty programs, receipt coupons are great strategies to get your customers coming back for more. Coupons have a unique advantage over loyalty programs because they allow the merchant to control when they would like the customer to return. For example, when a customer buys a certain item, you can issue a coupon for that same item valid for only 5 days. This means a customer who would like to take advantage of the offer will have to return sooner than normal.
Product Bundles and Liquor Store Promotions
Bundling products is another great way to increase customer spending. Many people would rather purchase a boxed cocktail set than look for all of the individual products. This gives you a great opportunity to include brands that result in a higher profit margin. People also like the opportunity to try new products. If you recently received a new product in your liquor store, try offering it at a discounted rate paired with a popular product. Customers will be much more likely to give it a try.
Events Can Improve Liquor Store Sales
Competing with online shops and delivery services is difficult, but it's hard to replace the experience of actually walking through a liquor store. A great way of taking the shopping experience to another level is by hosting events or showcasing certain products. Obviously, this requires more planning and advertising which will come with higher upfront costs. However, some of your liquor vendors and distributors might be interested in advertising opportunities, and suppliers always want to promote their brands. This will lower your investment, improve your relationship with your brands, and, most importantly, get more people into your store!
FundKite funding will provide you with working capital that considers your business's particular financial requirements and goals. The experienced staff at Fundkite takes transparency very seriously and will provide you with direct answers to any questions you may have. Our Revenue Purchase Agreement is straight forward with funding amount and fees found easily on the first page.
Our in-house underwriters are passionate about getting you the funds you need to grow your business. That's why we don't look at your credit score alone, we consider more comprehensive aspects of your business which reflect on the health of your operations. We are passionate about helping your business succeed—the last thing we want is to impede your progress.
We understand how timing is everything when it comes to acquiring capital for your business. Receiving the funds you need three months from now might be too late. That's why FundKite prides ourselves in putting cash into your hands as quickly as possible. Qualified applicants can receive funding in as soon as 24 hours.
Here at Fundkite, we believe that small businesses are the lifeblood of every community across this country. Our passion for helping entrepreneurs succeed is what motivates us to get out of bed every morning, and the joy we receive from watching our funding partners succeed is immeasurable. Let Fundkite back your business today and make sure that you have a leg up on the competition.
Liquor Store
Funding Options
From $100,000 to $2,000,000
TRUSTED BY
BUSINESS OWNERS
SINCE 2015